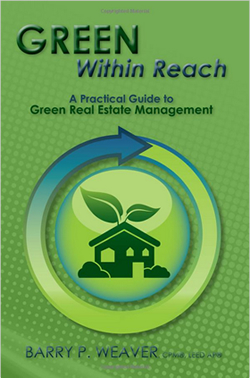 Now Available "Green Within Reach"
Looking for a practical guide to going green?  Everyone is talking about the benefits of green buildings, but what do you do if you don't have the capital to finance major green improvements or upgrades?  Green Within Reach is written for you.   Without making a significant capital investment, the green practices in Green Within Reach can help you:
Efficiently use energy, water, and other resources.
Protect occupant health, employee productivity, and occupant well-being.
Increase cash flow, profitability and asset value.
Reduce costs for operations and maintenance.
Reduce waste, pollution and environmental degradation.
Extend equipment durability.
Green within Reach- is intended to be a user-friendly "how to guide" to green an existing building.  The book provides cost-effective green practices to reduce waste, cut costs, control expenses, and improve building environmental health.   If you are ready to go green, but have limited capital, you are holding the right book to make lasting green gains.
In Green Within Reach you'll learn:
How to Save Between 5%- 20% on Energy Bills Without a Significant Capital Investment.
How to Conduct an Energy Self-Assessment.
How to Improve Indoor Environmental Quality.
How to Implement a Green Operation & Maintenance Plan.
How to Reduce Water Consumption and Use Water Efficiently.
How Saving Water Saves Energy. 
How to Implement a Tenant Green Education Program.
Green Within Reach will help you make big green gains with existing resources.  Green Within Reach will be available on Amazon.com.   Click on the book image to order a copy.